The Andaman Islands are not the easiest place for fishing, this is because you have to be ready to fight monster fish near coral, rock and other structures and in sometimes very shallow waters.
We recommend a simple but powerful set up.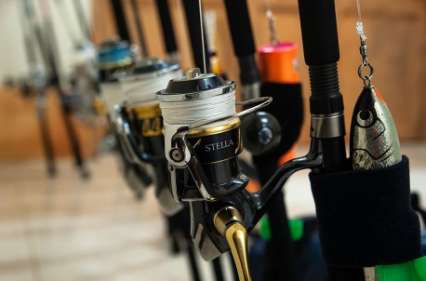 Recommended Tackle & Gear
– Popping rod (2-2,5 meters long / PE8-10 class)Braid – PE8
– Shockleader – 200 lbs mono
– To connect line and leader we recommend a PR knot
– Treble hooks (Owner): 4 – 5/0
– Jigging Hooks (Jigging Master or Gamakatsu): 10 to 12/0
– Split Ring – 150 lbs and above
– Poppers/stick baits (100-200 gr)
– Heavy jigging set-up: PE8 / 130-150 lbs fluo leader /jig weight: 300-400 gr
– Medium jigging set-up: PE6 / 80-130 lbs fluo leader / jig weight: 200-300 gr
– Reels: Shimano Stella (SW18000 for popping) & (SW20000) for jigging.
Tip: We recommend that you bring most of your personal fishing gear and tackle. We do also sell some poppers and stickbaits at our shop.
On request we can also rent out some of our high-end gear. Please ask for this at the time of making a booking with us.
If you have lost some poppers or lures, there's still a possibility to buy some of these at our shop in Havelock.
Our shop is located before the market & opposite Hi-Land super market. If you can not find it, please give us a ring or ask some of the friendly locals. You can also download a map where to find us, here.